Area Mulch and Soils Of Raleigh NC
Mon.7am - Fri.7pm
Sat 7am - 12pm 919-870-9771
---
Mulch Delivery 3-20 yards
Delivery of bulk mulch our variety includes, Designer Mulch, $29.50 Per Yard available in, Black, Chocolate Brown, and Red.
Leaf Mulch The Best Mulch for Your plants $12.99 - $16.50 "
Triple Shredded Hardwood Bark Mulch $26.00 and our Budget Cutter mulch which offers an lower price at just $20.00 per yard. aged Pine Bark Fines and Long Needle NC Pine Straw.
---
With a knowledgeable background of mulch since 1998, we at Area Mulch and Soils enjoy helping you decide what type of mulch you need.
Leaf Mulc
h
: Black in color,
Images
shown is leaf mulch is aged 3-4 years old. It holds color very well and does not fade. Leaf Mulch as it ages turn closer to pH neutral, it the will not burn. It is our most recommended mulch for first time mulching of flower gardens. We highly recommend it, because it breaks up clay soils here in Raleigh and adds more nutrients compared to other mulches. It holds moisture the best of all mulches, does not get hard in bottom layers.
20 Yards Delivered 5/25/18 27587 Image
It is has very high nutrient content and adds 70-90% more nutrients to your plants than traditional mulch. It adds the most microbial life to your soils of any groundcover mulch. One advantage of leaf mulch, is that after one year, plants can grow directly in the mulch. Note, may contain small pieces of trash try the leaf mulch and you will see a positive difference in your plants with it.
Pine Bark Fines Image: also called Soil-Conditioner 1/4 in size, used in flower and Rose beds. Not recommended for areas where water is moving.
Playground Mulch ASTM Certified: Image 1/4 - 1/2 in size. Made from shredded hardwood. Lay 6 inches deep and your child is safe for a 3 foot fall.11 inches good for a 9 foot fall. This type of Mulch meets National Guideline Standards for Impact Attenuation. We at Area Mulch and Soils have been selling Playground Mulch since 2002 and we have learned, kids are different these days when they reach about 5 - 6 years they are done with the swing and are on the computers. Most schools and public playgrounds go with the depths of 6 inches. The depth of 3 inches just isn't enough we recommend the 6 inch depth minimum.
Light Shaded Hardwood Mulch
Triple Shredded Hardwood Bark Mulch: Color darkens with age,1-2 inches average length fibers. The highest grade hardwood mulch. It is made from a variety of hardwoods. It is resistant to water erosion and washout. It is a great choice for weed prevention is very decorative and contrast well with green grass. Triple shredded Hardwood is perfect for use in your flower garden areas. It is a beautiful rich in color. this mulch will last approximately one year before breaking down. Hardwood Bark Mulch is one of the most popular mulch here in the Raleigh Wake Forest N.C. area. Not recommended for playgrounds.
---
Decorative Designer Hardwood Mulch : Colors available are Black, Chocolate and Red. Designer Mulch will last about 1-2 years depending on location. The trick with Designer Mulch if installed at a depth of 3 inches, when it starts to fade, take a leaf rake and roll it over that will give another 8-10 months of beautiful color. This Mulch is Made from new hardwood scraps then shredded and stained with EPA approved colorant.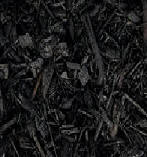 Black Designer Mulch.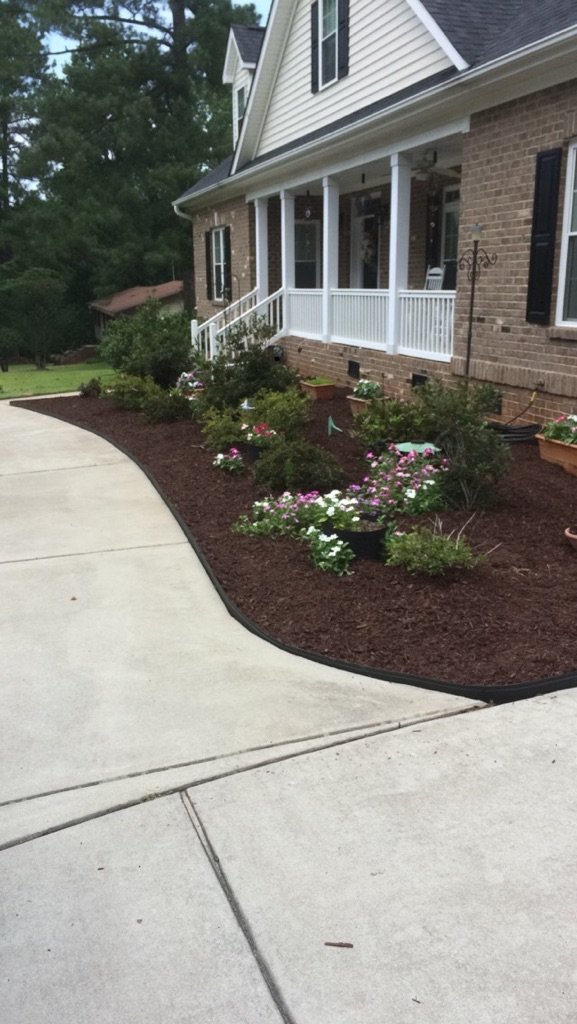 Chocolate Designer Mulch.
Russet Red Designer Mulch: Large Image
---
Budget Cutter Mulch, Delivery large Image : Save $$$ made from a blend of woods and bark contains about 60% wood and 40% bark really looks great and is moving up the chain of mulch quality.

Basic Mulch: Black in color, a blend a mulch that has been aged composted and screened, made from pine, hickory, maple, popular and hardwood.

NC Long Needle Pine Straw:

Rock Mulch: Best to use ones that are at least 2.5 inches in size, mixed from small to large is best. In-organic mulches can not get fungus mold. Landscape Fabric must be used in all Rock Mulch applications we recommend the felt type which is available at garden centers.

Brown Decorative Riverbed: 2-3 inch in size, light brown an wide range of colors browns, white, dark gray, light red, even pinks, first glance are light brown tones. Image
| | |
| --- | --- |
| MULCHES/ SOILS PRICE LIST, DELIVERY ONLY | CALL FOR VOLUME DISCOUNTS |
| TYPE | COST PER CUBIC YARD BY VOLUME |
| LEAF MULCH | $16.50 Per yrd. 15/$215.00 20/$265.00 |
| NC Long Needle Pine Straw | 50 Bales Min. $6.00 ea. |
| Pine Bark Fines | $35.00 per yard |
| Triple Shredded Hardwood Mulch Light | $25.00 |
| Certified Playground Mulch | $26.00 |
| Black Designer Mulch | $29.00 12 min. |
| Chocolate Brown Designer | $29.00 3 yard min. |
| Russet Red Designer | $29.00.00 12 yard |
| Brown River Bed Rock Mulch | $60.00 per ton |
| Basic Mulch | $275.00 per 20/ yard load |
| Budget Cutter Hardwood & Softwood Images | $20.00 |
| Additional delivery may apply on your location | Sales Tax added to all loads / Sold by bulk Cubic yard volume |
---
Why Use Mulch;
Can greatly enhances your property value,

Increases Moisture around your plants,

Suppresses Weeds,

Stabilizes soil temperatures around plants there by helping them to survive quick cold snaps,

Saves moisture around your plants,

Reduces soils compaction,

Some types of Mulches actually can provide nutrients. ( Aged Black leaf Mulch )

Some mulches are all ready full of microbial life.

Some mulches can help break up the clay here in Wake County ( Pine Bark fines )

Some mulches actually repel some insects,

What does mulch and hair perms have in common ?

The right answer gives you $10.00 off quiz ends June15th
---
Do's and Don'ts about Mulch,
Keep mulch 4-6 inches away from the foundation of your home,
When applying 2-3 depth no more than 3 inches.
Don't put mulch right up to the stem of plants and shrubs there by making a habituate for mice to gnaw on your plant stems when it's cold.
Getting the most bang for your buck when using stained wood mulches if applied at least 3 inches deep, as it fades, simply roll it over for another 8-10 months of color.
To much mulch can cause root damage.
Rock mulches put deep next to your foundation has in fact cause more termite damage than mulch. Termites don't like pieces of bark they like logs, large pieces of wood. Moisture is the main problem termites love moisture. NC State has done research on this very subject.
To order Call 919-870-9771
Updated 6/08/2018