Have you ever walk out in a wooded area of your yard reach down and dug a little in the leaves, do you see that rich humus, well you can have it too. By starting your own leaf mulch flower bed, with a little patience you can make an awesome flower bed. Here shown our aged leaf 2 1/2 year old Leaf Mulch spread out approximately 8 to12 inches deep our customer did this in the fall in the drought which we had back in 10/08/02 in the Raleigh NC 27615 area .
It supplies 70 - 90% of the nutrients your plants need.
Leaf mulch will not get hard over time like hardwood mulch.
Did you know that Leaf Mulch that is aged is full of Microbial life which is what feeds our plant life.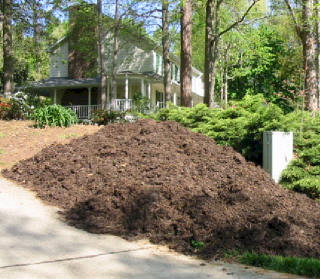 First Step spread it out 8 - 12 inches deep, then in the following early spring broadcasts his seed using No Fertilizers, just water.